Welcome!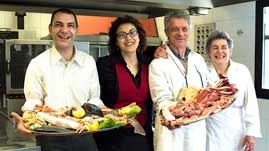 Torelli family would be glad to have you as a customer so you can taste the renowned menu of fish and meat in the Tuscan style. Furthermore they will make you to stay in the ancient mansion; the rooms are equipped with every item.
A brief history of the restaurant that carries out 50 years.
Four good reasons:

Every day you can eat fresh fish cooked with love.

Elegant ambience equipped with modern comfort.

Real Tuscan food: steak, sausages and costoliccio.

Renovated rooms having all the comfort available.